Synthetic Diesel Engine With Friction Conditioner MIRACLE 843 SERIES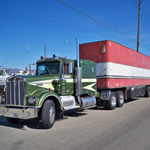 MIRACLE 843-Series adalah minyak pelumas mesin yang dirancang khusus untuk mesin-mesin diesel, baik mesin dengan putaran menengah, tinggi maupun turbo. MIRACLE 843-Series mengandung molekul sel supermikro sehingga menyebabkan jangka waktu ganti olinya menjadi lama. Produk ini sangat tepat untuk digunakan lebih dari 10.000 km atau minimum 1000 jam kerja pada RPM 1500.
MIRACLE 843-Series sangat tahan beban berat, pada mesin diesel baru minyak mesin ini dapat memberikan kekuatan tambahan lebih dari 300 HP.
MIRACLE 843-Series bekerja sama baik untuk mesin-mesin diesel standar maupun mesin diesel yang dilengkapi dengan turbocharger maupun supercharger. Pelumas ini memiliki kestabilan panas yang baik untuk menjaga piston agar tidak cepat aus. MIRACLE 843-Series mengandung zat tambahan untuk menjaga agar minyak mesin sewaktu operasi tidak mudah membentuk karbon keras sehingga menjamin mesin untuk dapat bekerja lebih efisien.

PEMAKAIAN TIPIKAL
MIRACLE 843-Series dianjurkan untuk digunakan pada semua tipe mesin diesel seperti mesin kategori  seri-III, misalnya bus, truk, peralatan konstruksi maupun generator pembangkit listrik, sejauh spesifikasi  memenuhi:
API Service kelas CH-4/SH (untuk 15W40), CF (untuk SAE 40)
Caterpilar  TO - 2
Detroit Diesel Allision C3 (level)
Memenuhi standar US MIL-L-2104 C, MIL-L-46152 MIL-L-2104 D.
Mengandung additive detergen beralkali yang efektif untuk meningkatkan retensi TBN selama mesin  bekerja.
Tahan panas dan tahan oksidasi.
Mengandung additive anti karat, anti korosi dan anti busa.
Memiliki indeks kekentalan yang tinggi.
Stabil pada putaran rendah, menengah maupun tinggi.
Divisi pengembangan TRUST telah berhasil merancang jenis minyak pelumas untuk crankcase, gear box & transmisi mesin-mesin yang berbahan bakar diesel yaitu : Miracle 843 - Series, sejauh memenuhi persyaratan A.P.I. service  & SAE.